Covid-19 Safe Practices & Policies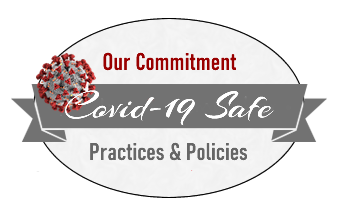 Dear Valued Guest:
Welcome to Lincoln Green Inn! We appreciate that you have chosen our Inn for your upcoming Carmel getaway. Below you will find a list of practices that we are engaged in to best protect you, our guest, as well as our employees during this time of Covid-19. We are also including a list of policies that we request of each of our guests to ensure the health and safety of all who frequent our inn.
Thank you for your understanding and participation as we work together to stay health and enjoy life during a particularly difficult time.
~ from all of us at Lincoln Green Inn
PROPERTY PRACTICES
Each of our employees have received training in extensive cleaning procedures, to include the frequent sanitizing of all common touch areas such as counters, doors, floors, lamps, light switches, tables, and chairs for example.
You are welcome to enjoy our outdoor facilities. We practice frequent cleaning of all common touch surfaces.
Each of our employees wears a mask and, where needed, gloves.
At all times, we practice social distancing, maintaining 6-feet apart from all others.
During check in you will receive a sanitized room key, sanitized pen for signing in, and any special instructions to maximize your comfort and safety during your stay with us.
GUEST ROOM PRACTICES
Each of our rooms are thoroughly cleaned and sanitized prior to guest arrival.
Once your room is cleaned and prepared for you, no one enters the room prior to your arrival.
All cottages have a HEPA filtration system for your comfort and safety.
FOOD SERVICES
Each room is equipped with a coffee maker, teas and drinking cups.
We provide an extended continental breakfast each morning as part of your stay.
We deliver a breakfast to your cottage each morning, leaving it at your door at a specified time.
Our breakfast staff uses masks and gloves when preparing and serving the morning meal.
GUEST POLICIES
We request that unvaccinated guests wear a mask when in close quarters with other guests and our staff. Face masks are not required for fully vaccinated individuals.
If you are feeling unwell, we request that you notify us by phone so that we can reschedule your stay with us.
If while you are at the inn, you become unwell, we request that you notify us and make arrangements to return home.
We ask all guests to practice social distancing during check in, while enjoying our property, at breakfast and when interacting with other guests as well as our staff.
We ask all guests to not touch another guests' pet!